ATTRACTION IN LANGKAWI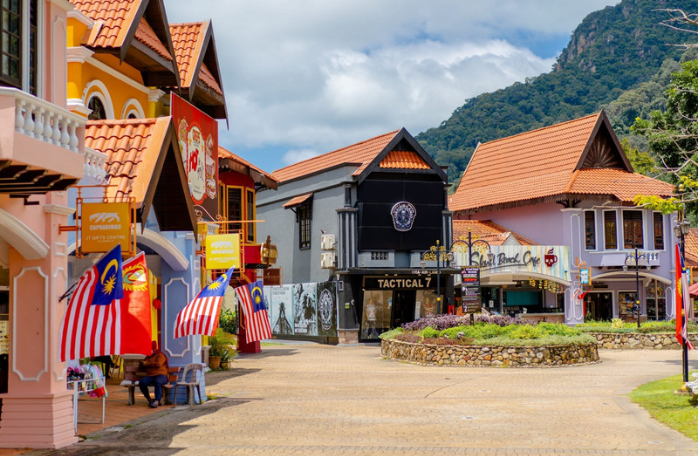 ORIENTAL VILLAGE
The Oriental Village is the site where you can purchase tickets to ride the Langkawi Cable Car. With a backdrop of the soaring Mat Chincang Mountains, the 'village' itself is pretty spectacular.
Opening Hours: 10:00 – 22:00
Address: Jalan Teluk Burau, Pantai kok
Tel: +6049594225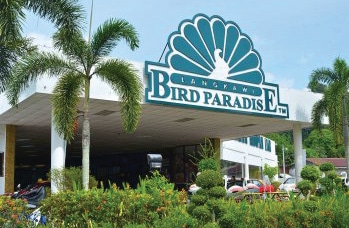 Wildfire Park & Bird Paradise
Langkawi Wildlife Park & Bird Paradise is a five-acre park along Jalan Ayer Hangat. Officially launched in 2002, it is a tropical garden with over 2,500 exotic birds from 150 species such as canaries, owls, eagles, toucans, hornbills and flamingos.
Opening Hours: 8:30 – 18:00
Address: Lot 1485, Jalan Ayer Hangat, Kampung Belanga Pecah
Tel: +6049665855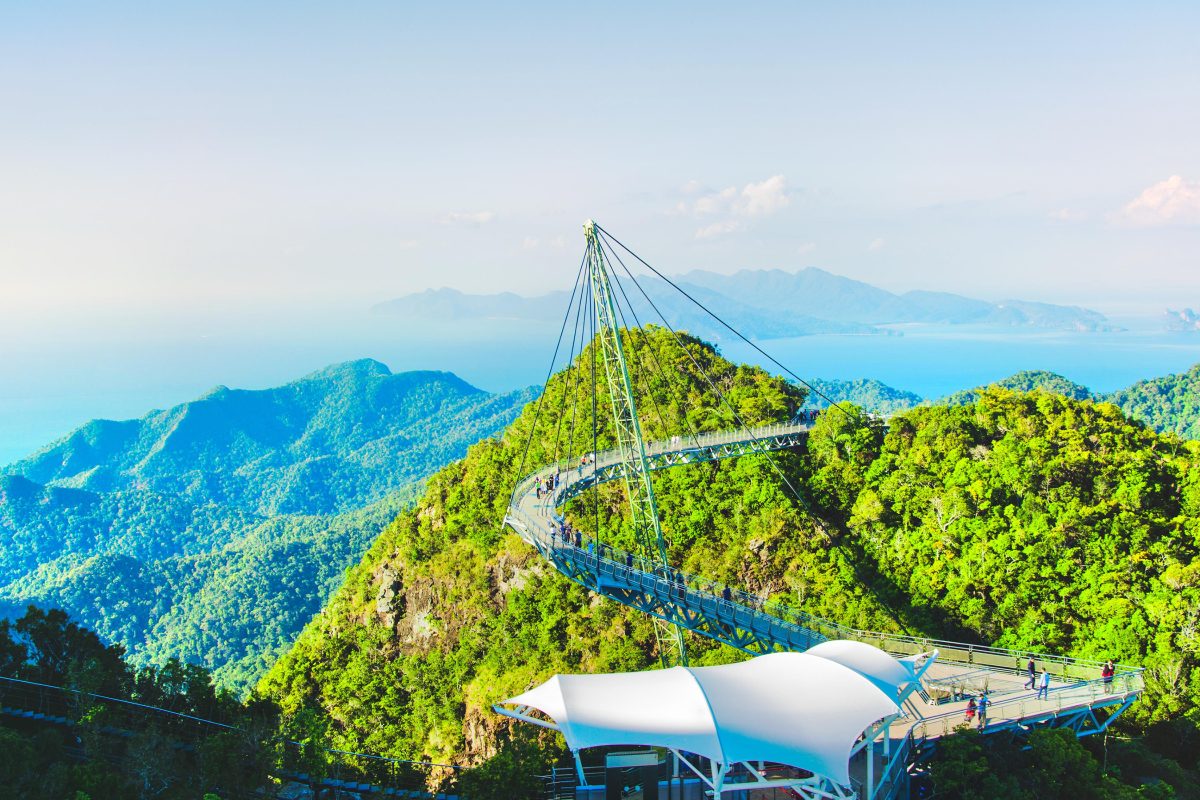 Gunung Mat Cincang
Gunung Mat Cincang is probably Langkawi's best-known mountain, aside from its neighbour Gunung Raya. At 850m high, it is the second highest mountain in Langkawi and offers some pretty spectacular views of the island. It is home to the famous cable car that carries passengers 709m above sea level to the apex.
Tel : +604 959 4225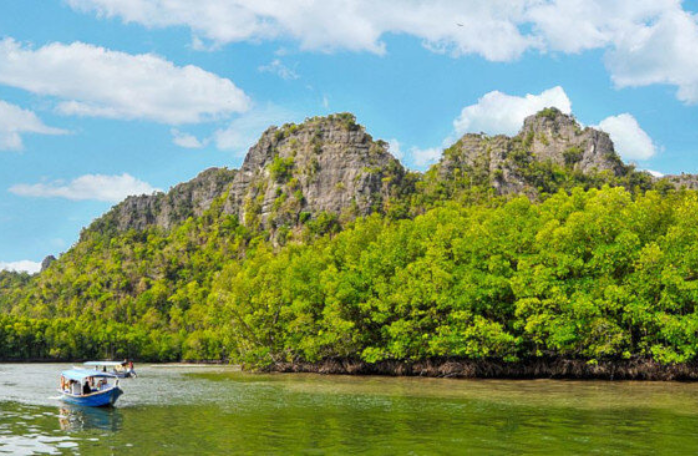 Sungai Kilim Nature
The Kilim river brims with life; hornbills, Brahminy Kites and the giant sea eagles reside in the sky while mudskippers and colourful crabs climb across coastal vines, the deer and squirrels darting about the trees. To appreciate the scenery, a cruise along the river of this fabulous nature park is highly recommended.
Tel : +604 959 4225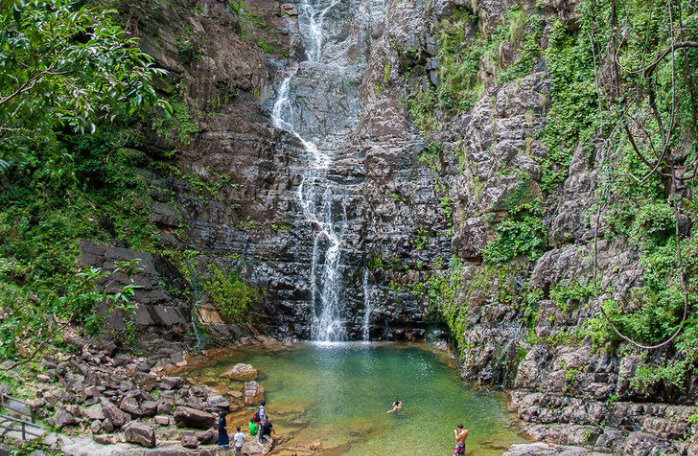 Temurun Waterfall
The Temurun waterfalls are conveniently located in the Mat Cincang Nature Park of Datai, offering the 'hot' visitor refreshing waters from the mountains. The waters cascade down a 30 m drop, forming a nice pool below which you can swim in. This is indeed a spectacular waterfall to visit, but only when it isn't the dry season as the waterfall will flow to a trickle during this period.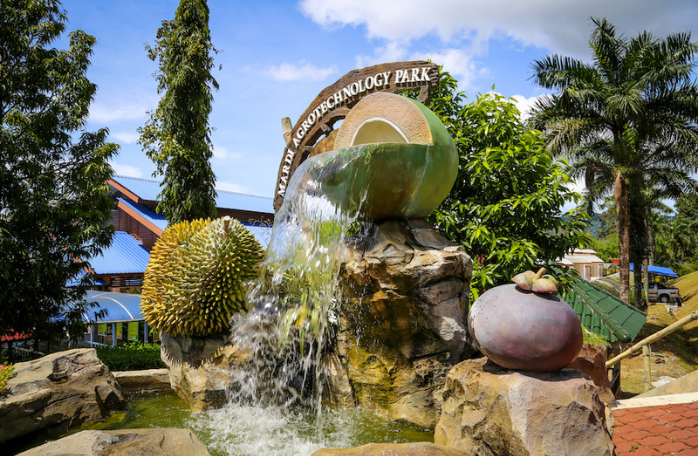 Mardi Agro Technology Park
The 25-hectare Mardi Agro Tech Park is popular amongst foreign visitors; for a minimal fee you can sample fruits like rambutan and guava as well as take part in recreational activities like camping and fishing. Visitors will also get to see the latest farming technologies like hydroponics and fertigation.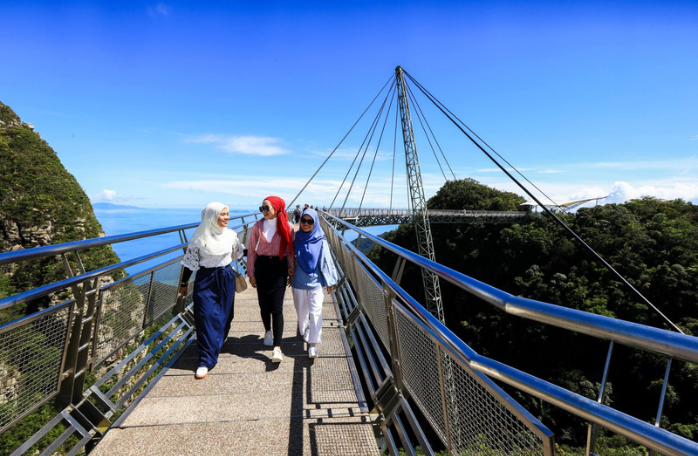 Langkawi Sky Bridge
The Langkawi Sky Bridge is located at the 'end' of the Cable Car ride. One of the island's highlights, it is a 410ft-long curved pedestrian bridge above Mount Mat Cinchang.
CHOGM Park
Adjacent to the Al-Hana Mosque is the CHOGM Park; built to commemorate the 1989 Commonwealth meeting in Malaysia, this garden features tall lush trees that provide shade. Also the site of the first-ever international coconut-tree climbing championship in 1987, the beach next to the park is the only beach in Kuah Town.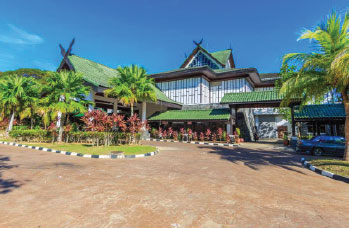 Galeria Perdana
Galeria Perdana is a museum displaying gifts and awards presented to former Malaysian Prime Minister Tun Dr. Mahatir and his wife, Dr. Siti Hasmah Mohd Ali. Opened in 1995, it is set a little further down the road from the Langkawi Bird Paradise in Mukim Air Hangat, approximately 11km from Kuah.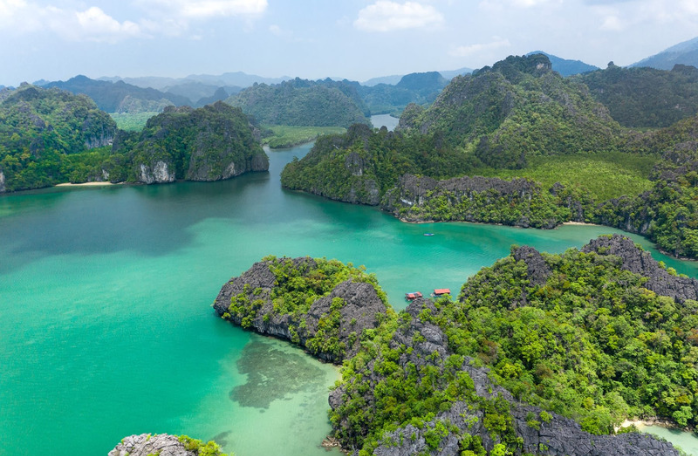 Kilim Karst Geoforest Park
Kilim Karst Geoforest Park Kilim Karst Geoforest Park Langkawi, spanning almost 100 square kilometres, is noteworthy for mangrove swamps, pristine beaches, and vertical karstic hills jutting out towards the Andaman Sea. Set along the northeast tip of Langkawi Island, the park is accessible within a five-minute drive from Tanjung Rhu Beach.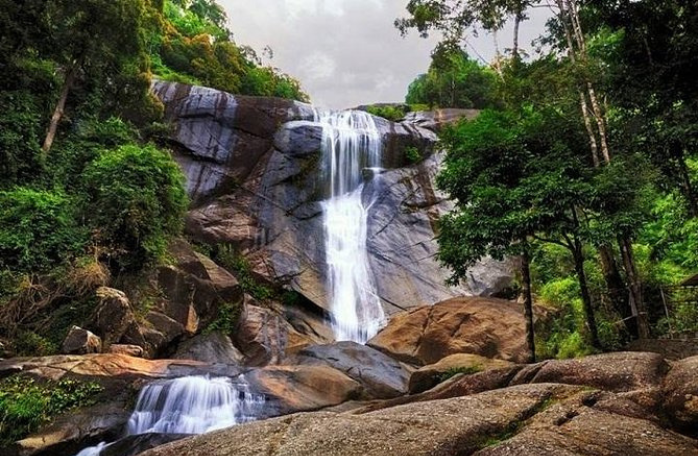 Telaga Tujuh Waterfall
Telaga Tujuh Waterfalls is billed as the island's most wonderful natural attraction. Set on Langkawi's western headlands, its name means Seven Wells Waterfalls, referring to a series of seven connected natural pools fed by seven separate waterfalls in Mount Mat Cincang.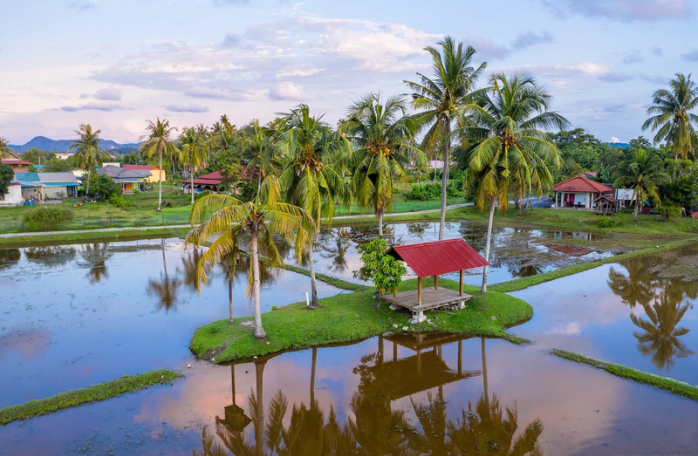 laman padi Langkawi
Opened in June 1999, the Rice Garden Museum is a good place to spend an afternoon. The Heritage Gallery has a series of displays on the sequence of activities pertaining to rice planting; meanwhile the Paddy Gallery is a viewing deck with breathtaking views of a multi-tiered rooftop rice garden.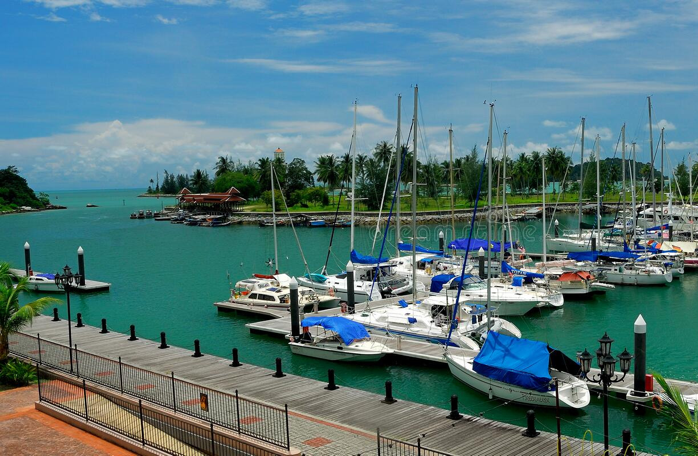 Telaga Habour Park
Telaga Harbour Park used to be a small fishing village but is now a well-developed township that is home to transient and home base yachts as well as mega yachts and is the only such harbour town in the region.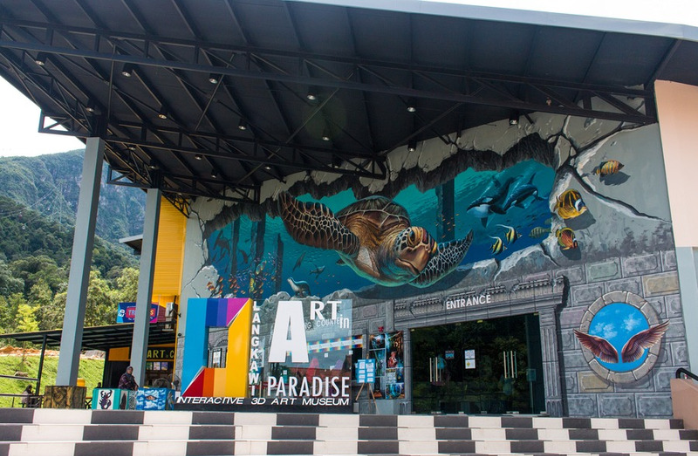 Langkawi Arts In Paradise 3D Museum
Langkawi Art in Paradise 3D Museum features more than 200 impressive artworks that appear almost lifelike when photographed. Hailed as the largest 3D art museum in Malaysia and second largest in the world, there are nine interactive zones within this three-storey building, including optical illusion, aquatic, safari, fantasy, classic, castles, landscapes, Egyptian, and Malaysian zones.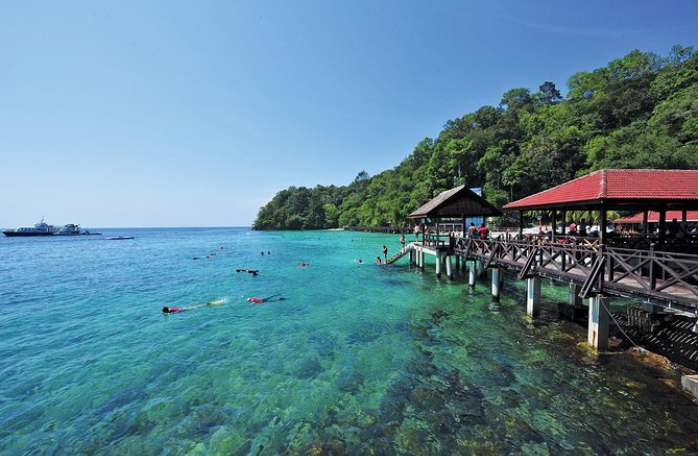 Pulau Payar Marine Park
Just 30km south of Langkawi Island is Pulau Payar Marine Park, a prominent spot for snorkelling and diving. It is about 45 minutes away from Kuah Jetty and you can take either a catamaran or a speedboat to get there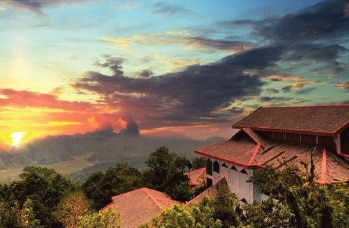 Gunung Raya
With an altitude of 881 metres, Gunung Raya is hailed as the highest peak in Langkawi. According to local beliefs, the mountain is the cursed form of a giant called Mat Raya, who had once lived on the island.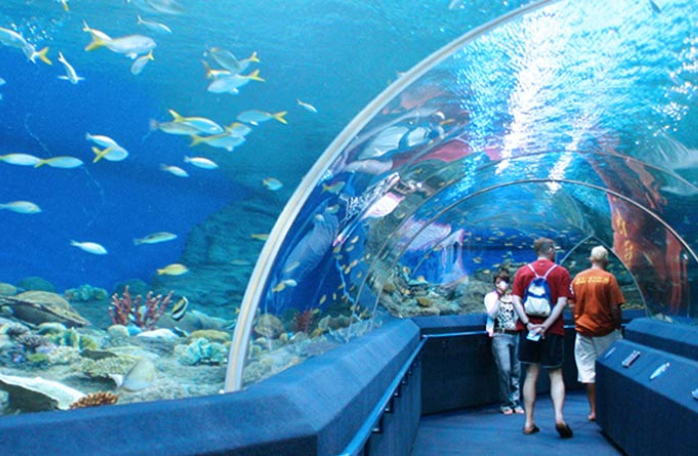 Underwater World Langkawi
Set along the vibrant Pantai Cenang beach town, Underwater World Langkawi houses more than 500 species of sea creatures including harbour seals, rockhopper penguins, seahorses, as well as flamingos and mandarin ducks. One of the highlights is a 15-metre walkthrough underwater tunnel, where you can enjoy close-up views of sharks, giant stingrays, and green turtles.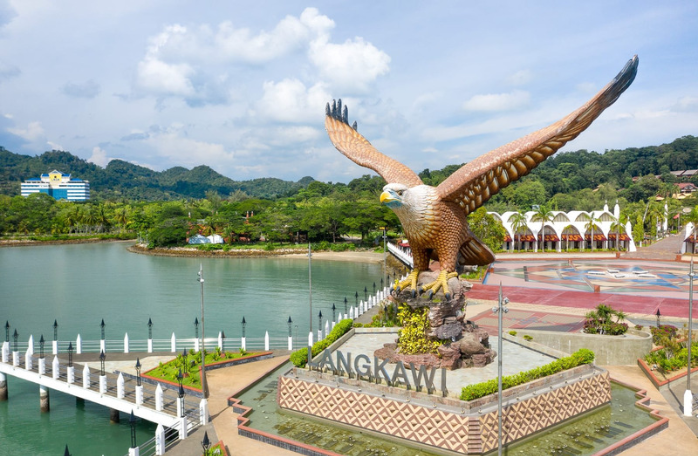 Dataran Lang (Eagle Square)
Dataran Lang, also known as Eagle Square, is a striking 12 metre-tall sculpture of an eagle poised to take flight is displayed atop an elevated platform. Set in Kuah, this prominent landmark is just a five-minute walk from Kuah Jetty, Jetty Point Mall, Taman Lagenda Dalam Langkawi, as well as numerous restaurants and duty-free shops. Dataran Lang also houses beautiful miniature fountains, terraces and bridges, while its close proximity to the sea makes it a popular spot for watching ferries ply across the harbour in the evening.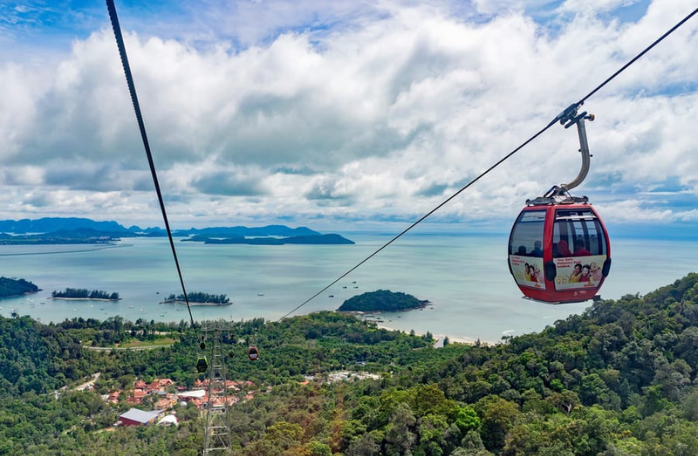 Langkawi Cable Car
Langkawi Cable Car takes visitors on a vertiginous 15-minute ride to the top of mount Mat Cincang, offering breath-taking views of Langkawi's rainforests, islets, and waterfalls. The journey starts out at the Oriental Village where you'll pass several stops fitted with open-air view decks along the way. As it gets a little chilly towards the top, we advise bringing a sweater along for the ride. After reaching the 708 metre-tall peak, visitors can enjoy the cool breeze, grab a quick bite, browse through the stalls selling T-shirts and souvenirs, and of course take lots of photos from the observatory deck.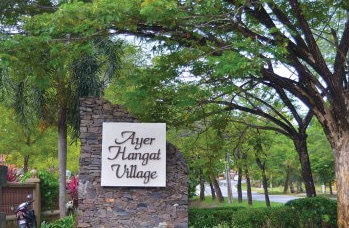 Air Hangat Village
Featuring an impressive three-tier fountain and a magnificent hand-carved river stone mural, this attraction basically emulates a spa. Soak in one of the pools or walk around the village which has duty-free shopping stores as well as an on-site theatre restaurant with Malaysian, Thai and Indonesian cuisine.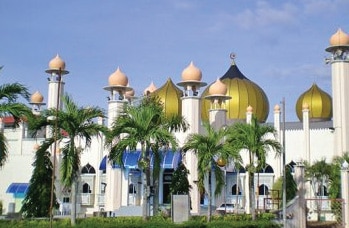 Al-Hana Mosque
To the west of the picturesque Lagenda Langkawi Dalam Taman is the Moorish-style Masjid Al-Hana. Incorporating motifs and carvings from Uzbekistan along with traditional Malay elements, it is the largest and most popular mosque on the island; its golden dome is unobstructed by the palm trees of the CHOGM Park.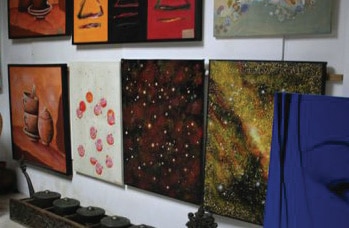 Atma Alam Batik Village
The Atma Alam Batik Art Village is Langkawi's main batik production and sales centre. This half-acre centre consists of a batik workshop, art gallery, showroom, and handicraft shop.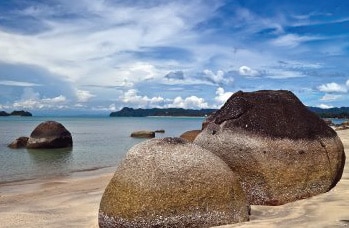 Black Sand Beach Langkawi
Black Sand Beach Langkawi, located four kilometres southwest of Tanjung Rhu Beach, offers memorable photo opportunities and a peaceful retreat from the island's often crowded areas. A 20-minute drive from the Langkawi Cable Car, it's a popular hangout spot among locals, especially during weekends and public holidays.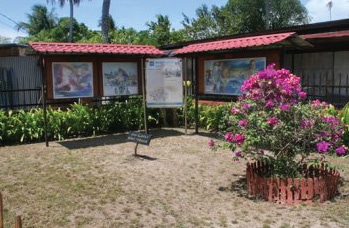 Ibrahim Hussein Museum & Cultural Foundation
Featuring the works of Malaysian artist, Datuk Ibrahim Hussein, this private non-profit museum is dedicated to the promotion, development and advancement of art and culture of international stature. The open gallery currently exhibits mostly Ibrahim's works. In the grounds of the gallery there is also a nature walk that leads into the Machincang Forest Reserve.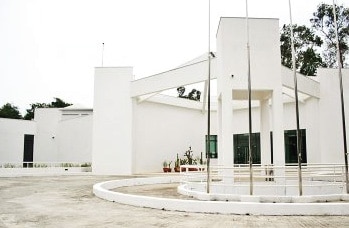 Ibrahim Hussein Museum & Cultural Foundation
Featuring the works of Malaysian artist, Datuk Ibrahim Hussein, this private non-profit museum is dedicated to the promotion, development and advancement of art and culture of international stature. The open gallery currently exhibits mostly Ibrahim's works. In the grounds of the gallery there is also a nature walk that leads into the Machincang Forest Reserve.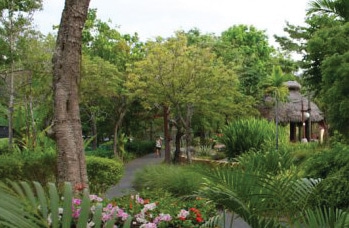 LAGENDA LANGKAWI DALAM TAMAN
Located beside the Kuah jetty this 50-hectare 'folklore'-themed park is a skilfully landscaped recreational strip along the Kuah waterfront. 17 multihued statues depicting Langkawi's myths and fables are scattered along with the four manmade lakes and there's also a narrow strip of beach; this area is a popular spot for joggers.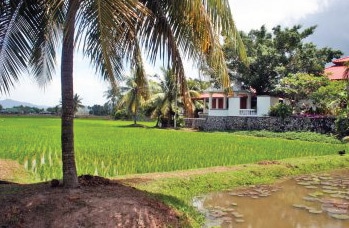 Lamand Padi
At the northern end of Pantai Cenang – opposite the Casa del Mar hotel – is Laman Padi; you can watch buffaloes grazing in the paddy field from the bridge at the entrance.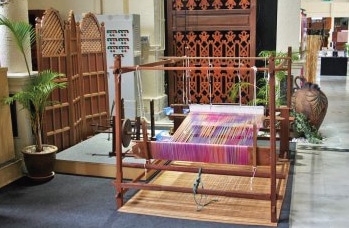 Langkawi Craft Complex
Langkawi Craft Complex is a tourist complex that has exhibits on traditional Malaysian handicrafts, plus it conducts demonstrations on crafts-making methods such as weaving, batik painting, wood carving and plaiting. 21km from Kuah, it is located just past Pantai Pasir Hitam (Black Sand Beach).
Langkawi Crystal
Just south of the Gunung Raya Golf Resort is Langkawi Crystaal – established in 1996 – Malaysia's only glass-blowing works. Once a simple glass-blowing house, Langkawi Crystal is now an extremely reputable crystal ware production company; that shuns the mass-production moulds of most major European producers. You can visit this factory and see how the individual crystal ware are produced and handcrafted to make it truly unique.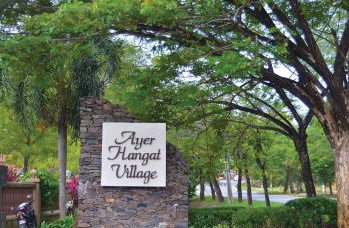 Durian Perancis Falls
This 14-tier waterfall flows down the slopes of Mount Raya, along the way, dotted with unique rock formations and immersed with crystal-clear water. A rich variety of vegetation grows abundantly around the falls. Just a short distance away are some hot springs in Kampung Ayer Hangat.