Enjoy close interaction with over 150 species of animals in the park with fully covered walkway accompany by the knowledgeable Educator that will assist and enlighten you with animals' knowledge.
Langkawi Wildlife Park Map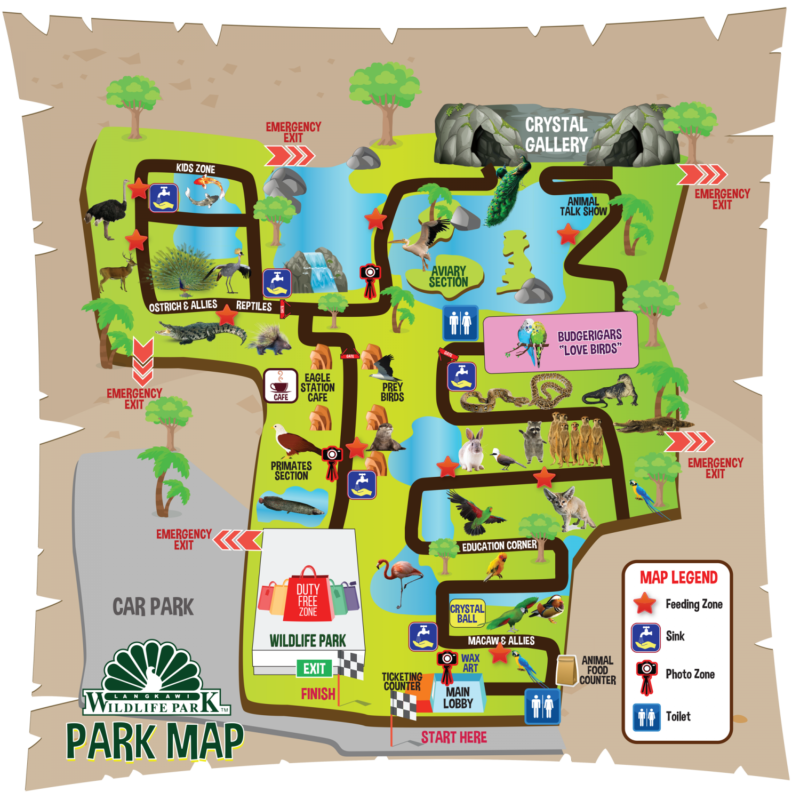 The Langkawi WildLife Park is situated at Lot 1485, Jalan Ayer Hangat, Kampung Belanga Pecah, 07000 Langkawi, Kedah, Malaysia. The park is built with a concept of allowing all the visitors to experience close interaction with the animals like never before, plus a fully covered walkway that enable visitors to visit the park during sunny day or rainy day. The 5.5-acre bird park is just a 10 minutes' drive from Kuah Town. Being the first of its kind in Asia, the park was opened to the public with the named as "Langkawi Bird Paradise" on 30th November 2002. Inside, the park has created an ambience of a tropical rainforest. Initially the park featured mainly on avian of different species. It was officially launched by the Chief Minister of Kedah, Y.A.B. Dato' Seri Razak Zain on 24th December 2002. On 1st January 2006 and in line with the new range of wildlife exhibits, we changed the name to "Langkawi WildLife Park".
Open daily.
Opening Time : 08.30 a.m
Last Entry : 05.30 p.m
Closing Time : 06.00 p.m
Operating Hours : 08.30 a.m – 06.00 p.m